FOR IMMEDIATE RELEASE: June 15, 2022
Lower Yellowstone River Sites Affected by Rising River Conditions
(MILES CITY) With high river flows predicted on the lower Yellowstone River through the weekend Fish, Wildlife & Parks has restricted access to some sites in southeast Montana.
As of Wednesday morning, June 15th, the following sites have been impacted: Rosebud East and Rosebud West Fishing Access sites (FAS) near Forsyth are both limited to walk-in traffic only. Motorized vehicle access is restricted until further notice.
Myers Bridge FAS near Hysham is closed as the Bureau of Land Management (BLM) has closed Howrey Island Recreation Area, which includes the access road to Myers Bridge FAS.
Isaac Homestead FAS, also near Hysham, is limited to walk-in traffic only as water is across the road at this time. Also at Hysham, Amelia Island FAS is still accessible but the boat ramp has been closed.
Intake FAS near Glendive is currently open to the upper parking area. Walk-in traffic is permitted only beyond the parking area. Those wishing to participate in the ongoing paddlefish season are advised that FWP staff will not be onsite and the fish cutting service will be discontinued.
Further restrictions of additional sites may be warranted as river conditions fluctuate in the next few days. FWP staff are currently evaluating river impacts to all sites and will adjust accessibility restrictions as needed to protect public safety.
FWP has been in close communication with agency cooperators, area officials and local emergency services and all have been notified of site accessibility. Current statuses of FWP sites throughout the state can be found at https://myfwp.mt.gov/fwpPub/allRestrictions.
Any restrictions or closures put in place are done so with public safety in mind.  Flooding can be unpredictable and poses significant safety hazards, especially to recreationists. High water levels and related river hazards can appear and evolve without warning. Recreationists can avoid accidents and injury to themselves and others by observing all safety closures and avoiding other areas with high flows. 
FWP Seeks Input from Anglers on Update to Fort Peck Fisheries Management Plan
FORT PECK, Mont. (NMB) – The 10-year fisheries management plan for Fort Peck Reservoir will expire in 2022, prompting Montana Fish, Wildlife & Parks to begin updating the plan for next 10 years. FWP is seeking anglers' assistance with this plan, starting with an online survey.
This will be the fourth 10-year management plan for the popular reservoir. Each of these plans have been developed with regional and state-wide public involvement to establish clear management direction for the Fort Peck fishery.
The current management objective states that the fishery will be managed primarily as a walleye fishery while also setting goals to maintain a quality multi-species fishery.
The biologically-based components for fisheries management of the Fort Peck fishery include relative abundance targets for walleye, northern pike, smallmouth bass, sauger, lake trout, chinook salmon, shoreline forage, and pelagic forage (cisco). In addition, there are guidelines for fishing tournaments on Fort Peck.
During 2022, FWP is providing several opportunities to obtain public input for the plan. The first step is conducting an online user survey. Anglers interested in providing input are encouraged to visit the FWP website and look under the conservation fisheries-management tab. The home page for the plan can be found directly here: https://fwp.mt.gov/conservation/fisheries-management/fort-peck-reservoir
After the survey, there will be several other opportunities for anglers to contribute to the Fort Peck Plan, including public meetings, to ensure that everyone has a chance to comment.
Over the last decade, walleye populations and other gamefish species in Fort Peck Reservoir have been at or slightly above their long-term average. Favorable runoff from higher elevation snowpack and generally increasing reservoir water levels has resulted in very good habitat and forage conditions. These conditions have greatly benefited the sportfishery and have led to Fort Peck becoming a destination fishery for large walleye, lake trout, Chinook salmon and smallmouth bass.
Those interested in the planning process or that have any questions about the fishery are encouraged to call FWP in Glasgow at 406-228-3700
FWP Statewide Fisheriese Management Plan Proposals
At last week's FWP Citizens Advisory Council meeting at the Region 4 headquarters in Great Falls FWP requested that the public send in proposals for the new Statewide Fisheries Management plan. Please see the FWP website for more information.

Proposals can be submitted on the FWP website. FWP also stated that it works best if you discuss your proposal with your local FWP Biologist or Fisheries Manager prior to submitting on the FWP website.
Proposals due date is May 27th, 2022.
Montana State Parks and Recreation Board to meet May 13
Update: Board to tour several state parks in northwest Montana
HELENA – The Montana State Parks and Recreation Board will meet at the Fish, Wildlife & Parks Region 1 Headquarters in Kalispell and virtually via Zoom on May 13, at 9 a.m. 
Interested members of the public may comment via ZOOM, in person or at any FWP regional office. If you are interested in commenting via ZOOM, you must register online at the Fish, Wildlife & Parks website. Registration will open at noon on May 6 and close at noon on May 12. The public will also be able to comment in person at the meeting or at any FWP regional office.
The board will also tour Big Arm, Lake Mary Ronan and Somers Beach state parks on May 12, starting with Big Arm at 8:45 a.m. and ending at Somers Beach at noon. After the meeting on May 13, the board will leave at 10:45 to tour Les Mason, Whitefish and Lone Pine state parks.
To listen to the meeting and for information on how to join the meeting via Zoom, click on the State Parks and Recreation Board's webpage prior to the meeting start time. 
The board will take action on the following item: 
Smith River State Park and River Corridor Biennial Rule
The board will also hear updates on the following items: 
Fish, Wildlife & Parks Reorganization and Planning Update
Parks Fee Schedule Update
Hell Creek State Park Update
FWP ensures its meetings are fully accessible to those with special needs. To request arrangements, call the FWP Parks and Outdoor Recreation Division at 406-444-3750.
For the full agenda and background on the scheduled topics, go to the State Parks and Recreation Board page on the FWP website.
FWP's website offers live-streamed audio of each State Parks and Recreation Board meeting.
Upper Missouri River Reservoir Fisheries Management Plan update meeting April 20
Montana Fish, Wildlife & Parks will hold its annual update meeting on the Upper Missouri River Reservoir Fisheries Management Plan on Wednesday, April 20.
The meeting will be held at 6:30 p.m. in the auditorium of the Montana WILD Education Center in Helena and will update anglers and the public on population trends of principle game fish in the plan area.
The Upper Missouri River Reservoir Fisheries Management Plan guides fisheries management for Canyon Ferry, Hauser and Holter reservoirs and the Missouri River from Toston to Canyon Ferry and from Hauser Dam to upper Holter Reservoir. The plan sets fisheries goals and strategies to maintain quality multi-species fisheries throughout the system and was approved by the Fish and Wildlife Commission in December 2019.
Participants are invited to attend the meeting in person, and a virtual Zoom option will also be available. Details on how to attend via Zoom will be provided on FWP's website and by press release approximately a week ahead of the scheduled meeting.
For more information visit https://fwp.mt.gov/conservation/fisheries-programs/upper-missouri-management-plan or contact fisheries biologist Adam Strainer at astrainer@mt.gov
Record Utah chub caught at Canyon Ferry Reservoir
Mar 9, 2022 2:15 PM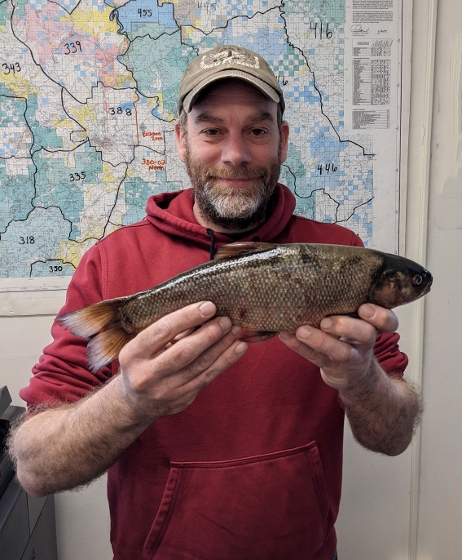 HELENA – Steve Hagen of East Helena reeled in a state record Utah chub on March 7 from Canyon Ferry Reservoir. The fish weighed in at 2.39 pounds and measured 15.9 inches in length and 10.4 inches in girth. The previous record Utah chub, caught at Canyon Ferry in 1992, weighed 1.81 pounds.
Hagen's catch adds to the list of Montana record fish caught in the last year and a half including a walleye, a chinook salmon, a smallmouth bass, a yellow bullhead, a brown trout, a longnose sucker, and a largemouth.
With a total of 91 native and introduced fish species found in Montana, interest in fish records has increased in recent years. Montana Fish, Wildlife & Parks maintains the list of record fish, and it is available on FWP's website at https://fwp.mt.gov/fish/anglingData/records.
Anglers who think they caught a state record fish should keep the following things in mind:
To prevent loss of weight, do not clean or freeze the fish. Keep the fish cool — preferably on ice.
Take a picture of the fish.
The fish must be weighed on a certified scale (found in grocery stores or hardware stores, etc.) and witnessed by a store employee or other observer. Obtain a weight receipt and an affidavit from the store personnel if no FWP official is present. Measure the length and girth.
Contact the nearest FWP office to have the fish positively identified by a fisheries biologist.
Gov. Gianforte, FWP Announce New Smartphone App
App developed as Gianforte administration leads digital redesign effort
HELENA, Mont. – As part of his charge to improve customer service and modernize technology in state government, Governor Greg Gianforte today announced the launch of a new mobile app from the Montana Fish, Wildlife and Parks (FWP). FWP's new app will allow Montanans to access their hunting and fishing licenses with their phone, reducing the need to secure and carry around paperwork while they fish and hunt.
The new app, MyFWP, provides Montana sportsmen and women a simple, easy way to store and display licenses, permits, and digital carcass tags, known as E-Tags, which can be used in the field without cellular service.
"Modernizing the way state government does business allows us to better serve Montanans and remains a top priority as we lead the Montana Comeback," Gov. Gianforte said. "I applaud FWP for bringing this idea to life, and I look forward to the convenience it will bring our hunters and anglers."
FWP is launching the new mobile app in conjunction with the start of the new 2022 license year, which begins March 1. The app is available to download now in Apple's App Store and Google Play.
"This mobile app is a huge advancement in convenience for hunters and anglers," FWP Director Hank Worsech said. "Anglers can now display their fishing license on their smartphone, and hunters can notch their digital carcass tag with just a few taps of the app in the palm of their hand."
In addition to storing and displaying licenses and permits in a digital wallet, the MyFWP app gives hunters the option to digitally validate an E-Tag instead of a traditional paper carcass tag. This can be done even if the hunter is out of cell service.
Hunters who purchase licenses online or at an FWP office will have the choice between the two options – digital or paper – for each transaction they make. They can't choose both, and the decision is final for the remainder of the license year for each tag. If a hunter chooses the digital option, the E-Tag will be available on their mobile app to download before they head into the field.
Even if someone opts for paper carcass tags, they can still use the MyFWP app to carry and view licenses and permits for the current year and one year prior. All game animals in Montana that require a carcass tag are eligible for digital validation with an E-Tag. Paddlefish won't have an E-Tag option this year.
Licenses and E-Tags will be accessible out of cellular service if users are logged into the app and have downloaded E-Tags to their mobile device.
Simple and Convenient
1. Download the Montana MyFWP app from the App Store (Apple) or Google Play.
a. Device & System Requirements
i.iPhone device with iOS version 14 or higher
ii.Android device with OS version 11 or higher
2. Open the app and log into your MyFWP account or, if you don't have one, create a new MyFWP account. You can also link your ALS account to an existing MyFWP account.
3. View your fishing and hunting licenses and permits in or out of cell service.
4. Choose between paper carcass tags or E-Tags upon purchase either online or at an FWP office. You can't choose both, and if you choose an E-Tag, download it to your device so it's accessible in the field, in or out of cell service.
Moving forward, FWP will explore adding new functions and services to the MyFWP app, including harvest survey reporting.
To view Frequently Asked Questions on the MyFWP app and more information, visit fwp.mt.gov/myfwpapp. ##
Fort Peck Dam and Lake Master Plan Update and Revision
The U.S. Army Corps of Engineers (USACE), Omaha District is currently seeking your input on the development of a revised and updated Master Plan for the Fort Peck Dam and Lake Project. We are currently in Phase One initial stages of our revision process where we are identifying stakeholders and potential stakeholders that have an interest in the land management objectives and goals for the Fort Peck Project.
The Master Plan guides the comprehensive land management document guiding USACE responsibilities pursuant to Federal laws, regulations, and policies to preserve, conserve, restore, maintain, manage, and develop the Civil Works Project's lands, waters, and associated resources. The Master Plan includes a description of the project's resources, a discussion of factors influencing resource management and development, and a strategy for managing project resources and public recreation to meet environmental stewardship requirements and the needs of present and future generations. Additionally, a Programmatic Environmental Assessment (PEA) will be developed in accordance with the National Environmental Policy Act (NEPA) that assesses the potential effects to the natural and human environment outlined in the Draft Master Plan.
Part of the stakeholder identification process is to work at establishing or strengthening partnerships to work together to manage public lands. A significant part of developing a Master Plan is to identify these critical partnerships. If you have ideas or suggestions on potential partnerships or expanding partnerships to manage these public resources together, we would greatly appreciate hearing from your organization.
Please provide any comments, questions, or concerns to Mr. Zach Montreuil, District Environmental Stewardship Program Manager at Zachary.J.Montreuil@usace.army.mil or via U.S. Mail to the address below:
U.S. Army Corps of Engineers, Omaha District
Attn: Mr. Zach Montreuil, Environmental Stewardship Manager
Operations Division, Natural Resources Section
1616 Capitol Avenue
Omaha, Nebraska 68102-4901
It is anticipated that we will have the Draft Master Plan and Programmatic Environmental Assessment (PEA) completed in Fall 2022. We will notify you when the draft documents are completed and will request your review and comment at that time as well.
The current Master Plan (2008) that this effort will be updating and replacing may be viewed at this link: https://usace.contentdm.oclc.org/digital/collection/p16021coll7/id/90.
If you have any questions, concerns, or comments please contact Mr. Zach Montreuil, District Environmental Stewardship Program Manager at Zachary.J.Montreuil@usace.army.mil or at (402) 995-2712.
Thank you,
___________________________________
Zach Montreuil
Environmental Stewardship Program Manager
Natural Resources Management Section
U.S. Army Corps of Engineers, Omaha District
CENWO-ODT-N
1616 Capitol Avenue, 59CE
Omaha, Nebraska 68102
Office: (402) 995-2712
Email: Zachary.J.Montreuil@usace.army.mil
February Spring meeting and Banquet – Lewistown
Social 7 pm Feb 18 Yogo Inn
Meeting 8 am Feb 19 Eagles Club. Meeting at 8 am
Doors open banquet 5 pm Feb 19 Fergus County Trade Center
FYI: Banquet tickets will not be reserved. The cost is $40 each.
Make check payable to Walleyes Unlimited, Mail check to; Colby Tognetti, 715 4th Ave N, Lewistown, MT 59457-1403, Phone: 406-350-2627OR mail to; Don Pyrah, P.O. Box 3595, Lewistown, MT 59457-3595 Phone: 406-380-0064
There will be a no-host social on Friday night, February 18, at the Yogo Inn, 211 East Main, beginning at 1900 hours.
Saturday Morning, February 19th, there will be breakfast served at the Eagles Club, 124 West Main Street, beginning at 0730 prior to the WUM State Business meeting at 0800 hours for those needing or wanting to attend.
Doors will open at 1700 hours on Saturday Evening January 19th for the State Banquet and Awards at the Fergus County Trade Center, you won't want to miss it! We are also planning on having a couple boats on display for your pleasure as well!!
Chapter Banquets
Great Falls Annual Banquet will be on February 5th, 2022. Doors open at 4pm and walleye dinner is served at 6:30 pm. Contact Robbi, 406-590-6565 or Brenda, 406-868-2676