2023 Fall State Meeting – Great Falls – Heritage Inn
Heritage Inn
1700 Fox Farm Rd
Great Falls, MT 59404
406-761-1900
We have a block of rooms reserved. I am trying to get them to donate a room that we can use to have a drawing for anyone that RSVP's 8 days prior to the meeting so we can have an accurate number for food.
Friday, Sept 29
6:00 – 8:00
Hors d'oeures
Saturday, Sept 30
7:00 am Breakfast
8:00 am Meeting
11:30 working lunch (sandwiches) we can move this later if you would like I thought it might be a good time to get up and move around.
Watercraft inspection stations open across most of Montana
2,000 watercraft inspected so far this year
HELENA – With the exception of Eureka, watercraft inspection stations are open. All vehicles transporting any type of boat, including canoes, kayaks, paddleboards and rafts are required to stop at all inspection stations they encounter.Watercraft inspection stations are Montana's first line of defense to prevent the movement of AIS, which can have devastating impacts on Montana waterways.More than 2,400 watercraft have been inspected so far this year. Of those, 13 boats were found to be transporting invasive mussels. Recently, a pontoon boat was intercepted at the Wibaux inspection station (operated by the Garfield Conservation District). The boat had been purchased at auction in Wisconsin and was being transported to Idaho. Inspectors preformed a decontamination, locked the boat to the trailer and notified Idaho to follow up.Boat owners should ensure their watercraft, trailers and gear are clean, drained and dry before transporting and need to be aware of Montana's inspection rules:All watercraft coming into Montana from out of state must be inspected prior to launching.All watercraft traveling west across the Continental Divide into the Columbia River Basin must be inspected prior to launching.Anyone transporting watercraft must stop at all open watercraft inspection stations they encounter.And all boaters are reminded to always clean drain and dry their boat, live wells, anchors, boots and gear when leaving the water.
Lake Elmo open for gas motorboat testing

May 13 and 20 – Boat owners can test equipment before summer season

BILLINGS – Before boating season gets into full swing this summer, Montana Fish, Wildlife & Parks is opening Lake Elmo to gasoline motorboats for two Saturdays in May. The events are intended to give boat owners an opportunity to test equipment for safety and will be held May 13 and May 20 from 9 a.m. to 1 p.m.Typically, only electric trolling motors are allowed on the 64-acre reservoir in Billings. The gas motor ban will be waived for these events in an effort to promote and increase boater safety.Officers from the U.S. Coast Guard Auxiliary in Billings will be available to conduct boat safety inspections and will be set up near the Lake Elmo boat ramp.For more information on Lake Elmo State Park, visit: https://fwp.mt.gov/lake-elmo
Commission approves 10 Future Fisheries projects
Applications for summer grant cycle due May 15
HELENA – The Fish and Wildlife Commission recently approved approximately $470,000 through the Future Fisheries Program (FFIP) to improve Montana fisheries. Because of this funding, westslope cutthroat trout passage will be improved in the upper Lolo Creek watershed when eight culverts are replaced in Granite Creek. Rainbow trout and brown trout will be kept in the Prickly Pear Creek and out of an irrigation ditch when a diversion is upgraded and a fish screen is installed to separate diverted water from the fish. These are just two out of 10 projects that received FFIP funding.
This year's funding was matched by $2.1 million from outside sources. Landowners, watershed organizations, county governments and nonprofits submitted a total of 11 projects. Ten projects were approved, including seven that are west and three that are east of the Continental Divide.
HELENA – Montana Fish Wildlife & Parks recently approved $22,445 in funding for a project to enhance angling at Hollecker Lake near Glendive. The funding will come from FWP's Community Grant Program.
The Glendive Chapter of Walleyes Unlimited will lead an effort to maintain and repair important lake amenities such as the accessible ramp and fishing pier, fishing access points, access road and more. This project is expected to ensure public access and angling opportunity are continued at this important community fishery.Read More >>
Governor appoints two new members to Fish and Wildlife Commission
HELENA – Following Senate confirmation, Montana Gov. Greg Gianforte's newly appointed Fish and Wildlife Commission members were sworn in last week. The new members are Jeff Burrows of Hamilton, representing Montana Fish, Wildlife & Parks Region 2, and Susan Brooke of Bozeman, representing FWP Region 3. Current commission members Lesley Robinson and William Lane were also confirmed for continued terms.
Burrows grew up in the Bitterroot Valley, graduated from Hamilton High School and received a bachelor's degree in environmental engineering from Montana Tech. He worked for the United States Air Force as a civilian engineer in Colorado Springs before returning to Hamilton. Burrows has served as a Ravalli County commissioner since 2012.
Brooke owns and operates campgrounds near Glacier National Park and Three Forks and brings to the commission years of experience working in collaborative roles on federal land exchanges.
The two new commissioners were sworn in last week. Burrows and Brooke join current commissioners Lesley Robinson (chair, Region 6), Pat Tabor (vice chair, Region 1), K.C. Walsh (Region 4), Brian Cebull (Region 5), and William Lane (Region 7).
-fwp-
Message from WU Executive Director
I've seen the recent social media and posts of an angler catching a good number of some very large, trophy class walleye, keeping them all and the comments from other anglers, some critical, some supportive. It was obvious from reviewing this that there is a lot of misconceptions and/or simply misunderstood perceptions of the reality of the FWP regulations on walleye in the Missouri River below Holter.
Fact is, the walleye limits on the river below Holter were not adopted for the purpose of protection, preservation, or even sustaining a walleye fishery. Several years ago, the FWP Commission adopted a "no limit on walleye" regulation on the Missouri River below Holter Dam. This was done contrary to the FWP staff recommendations. FWP had documented that the walleye population in the river had no detrimental impacts on the trout fishery. But in some electro fishing observed an increase in walleyes in the system after one of the high water years….that flushed fish from the upper reservoirs. The flushing in high water years has been happening for decades and did create at one time, what I called a "world class fishery"…with the absolute best fishing I've had in my entire life. Yet, some people became concerned and thought with the increase in walleye numbers, that walleye would take over the river system and ruin the "blue ribbon trout fishery"…..ignoring the historical data showing how walleye and trout had successfully co-existed in the river for decades. We had a quality blue ribbon trout fishery and a world class walleye fishery several years ago prior to that action.
The sole purpose of the "no limit" regulation proposed by the FWP Commissioner was to suppress the walleye population. I asked one of the Commissioners what the justification was for their action and was told "it was purely political"….which is not what should dictate management. The FWP department had no choice because the Commission is a quasi-judicial committee with unlimited powers appointed by the Governor and they set the rules.
A few years ago, the Department amended the regulation below Holter and established a 20 fish limit because of the negative bias and message the no limit regulation sent. This again, was not for the purpose of managing for a sustainable walleye fishery, it still is in place to suppress the walleye numbers.
Some anglers would still like to see walleyes eradicated from the system if possible, which is sad. The trout fishery has continued to be outstanding….with numbers of trout per mile at a sustained very high level and walleye numbers are minimal in comparison.
The irony of the past Commission actions were in the very next year, after the no walleye limit to protect the trout, they then doubled the harvest limits for the trout. Seemed a bit hypocritical to act one year to protect the trout and then double the limits?
The life cycle and typical seasonal migrations of walleye create a situation in the river, where numbers of fish will concentrate in relatively small areas and are very susceptible to angler harvest….because they will be in the same place, same time, every year and because of current and structure in very specific spots.
I can tell you that some 40+ years ago, I can remember doing something similar in catching and keeping everything I caught. I distinctly remember carrying a huge stringer of fish, across the dam one night that I can still remember how much it hurt my fingers to carry that stringer…yet never giving it a second thought as to what impact it had on the resource.
Years later, in the lower river…the first day I fished it, we got 13 walleyes averaging about 7 lbs. each. I released them all. I then invited the Great Falls FWP Fishery manager to come fish and show me how, and I would tag some fish for them. We fished 4 hours, catching 5 walleye from 5.5 to 10.5#'s. He couldn't believe it but took samples prior to releasing the fish and later told me those fish average 13 ½ years of age. Wow!
In later years, on the Missouri River, I truly did have some of the best walleye fishing I've ever had all across the US and Canada, but rarely if ever keeping any, because the population was relatively low. Numbers had fluctuated year to year, with the high water flushing and because it hadn't been highly pressured and high water flushing years put a few fish back into the system to somewhat sustain a fishery.
I can tell you now, after the no limit regulation was implemented and people kept unlimited numbers, the lower river fishery is no longer what it used to be. At best now a great day, I might be able to catch 1/3 of what I used to. One angler I spoke with one day was bragging about the number of 10# fish he caught and had kept, but yet complaining his personal best had not gotten any better. If every large fish that is caught is kept, logically, a 10# fish that is most likely 10-13 years old, never gets a chance to grow any larger…he probably will never catch the 12 or 13# fish he'd like.
If a person wants to harvest everything they catch up to the established limits….that is their right. But they should also know, excessive harvest of fish in a system that is not being managed with an intent to sustain a good healthy population, simply reduces the quality of the fishery over the long term. When it gets bad enough, people will quit fishing it as it isn't worth the time or effort and it will eventually come back, but when it takes 10-12 years to replace one of those 10'#'s you've kept, it may not be in my lifetime.
I would encourage anglers to consider selective harvest, keeping some good 15-20" as eaters and consider letting the larger fish go.
Anyone should be able to see what excessive harvest does….for example when FWP did the reward tag program on Canyon Ferry…they got a 60% return in 60 days. You all saw what happened with 20 fish limits and excessive harvest on Canyon Ferry. We went from a "world class fishery" to a place I quit fishing as there is not a fishery in the country that can sustain a quality population with harvest at those levels. Fortunately, limits have been changed and efforts are now being made to try to have a quality fishery, and it does appear to be improving….but it takes years to see the results.
All I can conclude with, is I am glad many anglers understand our fisheries are not an unlimited resource and that FWP does not manage some areas for walleye. I hope it never gets to the point that seasons are changed to close fishing…like many areas in the mid-west to provide protection during certain timeframes because of the concentrations during the walleye life cycle….but if the resource is abused it may be the only way to preserve and protect it and sustain a population. This isn't likely on the Missouri River below Holter because of the priority to manage the blue ribbon trout fishery….that I understand and agree with. It just doesn't mean walleye have to eradicated to do so…history proves how well they both co-existed for decades.
There is nothing wrong with catching a trophy ….I kept and mounted my first 10# walleye. For many, that is a once in a lifetime event. Today, I would encourage pictures, taking measurements and getting a graphite mount, so the fish doesn't have to be killed. I caught one walleye in the Missouri River that had been caught and tagged by FWP. That fish was 23 years old per FWP…..and a very rare thing. It was released so another angler would maybe have the chance another day for the experience of catching a fish of a lifetime.
Please consider the impacts of what you do, and do not abuse the resource. Keeping some nice eaters and releasing the prime spawners is one of the best ways to help ensure we have a future fishery.
2023 Legislative Walleye Fish Feed
The Walleyes Unlimited Legislative Fish Fry was held on January 18 at the Family Roots Gold Rush Restaurant in Helena. Montana lawmakers, FWP personnel, other fishing organizations, WUM hosts and guests enjoyed a wonderful walleye meal and a nice social gathering. Approximately 150 people attended the event. I heard several times it is the best dinner there is during the legislative session.
Upper Missouri River Reservoirs 2022 regulation changes
Monitoring surveys in 2021 and 2022 found that yellow perch abundance in Holter Reservoir was well above management goals. For yellow perch management, the plan recommends more liberal fishing regulations when abundance increases above goal range. To maximize yellow perch fishing opportunity while minimizing the impact to the population, the department is proposing to change the Holter Reservoir harvest regulation for yellow perch from 25 daily and in possession to 25 daily and 50 in possession.
In the river section from Toston to Canyon Ferry, monitoring has shown stable walleye abundance, but size structure is comprised primarily of large fish. In the river section, the department proposes to modify the current regulation of 10 daily, only one over 15 inches, to the Central Fishing District standard regulation of five walleye per day, 10 in possession. The current regulation, which only allows harvest of one fish over 15 inches, is unnecessarily restrictive and there is no biological reason to restrict walleye harvest to this extent. In addition, the standard walleye limit for the Central Fishing District has the advantage of being simple and easy to implement.
https://fwp.mt.gov/aboutfwp/commission/february-2023-meeting
**Walleyes Unlimited of Montana adamantly opposes the proposed regulation change to walleye limits upstream of Canyon Ferry to Toston Dam on the Missouri River. This will cause negative impacts to the Canyon Ferry walleye fishery and is not reasonable or biologically prudent to consider the walleye solely Missouri River fish. The impacts will also cause confusion with different regulations from the river to the reservoir. WUM feel the regulations should stay the same between the reservoir and the river.
Steve Harada
FWP seeks public comment on ice fishing contests
HELENA – Montana Fish, Wildlife & Parks is seeking public comment on ice fishing contests proposed for the 2022-2023 season. Participants must comply with state fishing regulations, including daily and possession limits.
Applications for fishing contests may be approved, approved with conditions or denied by the FWP Fisheries Division in Helena. Conditions placed on contests may help to minimize fish mortality, regulate harvest, reduce user conflicts or require additional access site maintenance when needed.
Information on the proposed fishing contests can be found on the FWP Fishing Contest webpage, https://fwp.mt.gov/fish/regulations/contests or by calling 406-444-2449. All comments must be received on or before Sept. 2, 2022.
Comments may be mailed to FWP Fisheries Division, Attn: Fishing Contests, P.O. Box 200701, Helena, MT 59620-0701, or emailed to FWPFishComments@mt.gov.
Upper Missouri River Reservoirs Fisheries Management Plan
Matt Zeadow and Dale Gilbert requested the following information at the meeting. Below you'll find our tentative field schedule for all 2022 standardized reservoir netting surveys, important dates for the new 2-year fishing regulation cycle and a general timeline for updating the Statewide Fisheries Management Plan:
2022 CFR, Hauser and Holter Reservoir Standardized Netting Survey Dates
May
9-12 CFR Floating Horizontal Gillnet Survey
16-20 Lake Helena/Hauser Horizontal Gillnet Survey
23-26 Holter Horizontal Gillnet Survey
June
13-16 CFR Sinking Horizontal Gillnet Survey
August
15-18 CFR Sinking Horizontal Gillnet Survey
22-24 Hauser/Holter Beach Seine Survey
29-31 CFR Beach Seine Survey
September
12-15 CFR Walleye Sinking Horizontal Gillnet Survey
October
3-6 Holter Horizontal Gillnet Survey
11-14 Hauser Horizontal Gillnet Survey
17-20 CFR Floating Horizontal Gillnet Survey
New 2-year Fishing Regulation Cycle – Important Dates
May 11
Regulation concept list reviewed and agreement for proposals completed
May 12
Jason Rhoten meets with Enforcement staff to discuss regulation proposals
May 12
Region 4 CAC meeting – Scope regulation proposals
May 17
Lewistown Public Meeting – Scope regulation proposals
May 24
Great Falls Public Meeting – Scope regulation proposals
June 1
Regulation proposals due to Chief of Fisheries
July 14
Pre-Pre Commission meeting (No regional changes after this time)
August 26
Regulation proposals released to public
October 6-17
Amendment Period
October 17
If necessary, deadline to provide input to amendments
October 20
Commission meeting (Biologists present at R4 HQ for questions)
Updates/Revisions to Statewide Fisheries Management Plan
Staff are currently drafting revisions/updates to the Plan and final draft will be done in 2023. Important dates for public comment are unknown at this time; however, a public comment period will be an important part of the process. FWP will make more information available as the process moves along. As a reminder, the UMRRFMP, or any waterbody specific plan, supersedes the Statewide Plan and is referenced as such in the Statewide Plan.
Take care and please let me know if you have any questions.
Sincerely,
Adam Strainer
Helena Area Fisheries Biologist
Fisheries Division
Montana Fish, Wildlife & Parks
Next State meeting is scheduled for September 24th in Glasgow.
-Call the Cottonwood inn for room reservations, block of rooms reserved for walleyes. Phone 406-228-8213. No social or meeting agenda available at this time, they will be sent when available.
Zebra mussel discovered in Pactola Reservoir in Pennington County
The South Dakota Department of Game, Fish and Parks (GFP) and the U.S. Bureau of Reclamation (BOR) have confirmed the presence of zebra mussels in Pactola Reservoir in Pennington County.
"We received an image of a possible zebra mussel that had been found on a pair of sunglasses while an individual was spear fishing in Pactola Reservoir," said Aquatic Invasive Species Coordinator, Tanner Davis. "Upon further investigation via water sampling by BOR, free-swimming zebra mussel larvae, called veligers, were found in two of the four samples collected."
"This is another reminder that all boaters and water users need to make sure they are practicing 'clean, drain, dry' every time they are on the water," said fisheries chief John Lott.
Clean watercraft and trailers of all aquatic plants and mud.
Drain all water by removing all drains, plugs, bailers, or valves that retain water. Be sure to completely drain your lower unit of any water by lowering completely.
Dry all equipment that has made contact with the water before it's next use.
All watercraft encountering a Watercraft Inspection/Decontamination (WID) station including non-motorized watercraft (canoes, kayaks, SUPs, and inflatables) need to be inspected. GFP has inspection stations at all larger western reservoirs. Inspection stations are the first line of defense in preventing the spread of aquatic invasive species. GFP WID stations are equipped with hot water sprayers (140-120˚F) that are able to kill any residual invasive mussel tissue or other aquatic invasive species.
Completely draining and drying a boat are the first steps in making sure invasive species are not transferred to other waters. It is important to note that invasive Zebra/Quagga mussels can survive up to 30 days out of water.
Mid-summer is a great time to start looking at submersed equipment such as boat docks, boat lifts, and hard substrate such as rocks and woody debris for zebra mussels. Zebra mussels can vary in size, depending on the age of the mussel. Newly formed mussels can be as microscopic as grains of sandpaper, while adults can grow to two inches in length. GFP encourages boaters to feel along their watercraft below the waterline for any roughness which may indicate that newly formed mussels, called settlers, may have attached.
For more information on zebra mussels, other aquatic invasive species, and how to properly decontaminate your watercraft, or to report potential infestations please visit sdleastwanted.sd.gov and report findings on the Citizen Monitoring page or email tanner.davis@state.sd.us.
Illegally Introduced Pike –
KALISPELL — State wildlife officials report recent surveys have found growing populations of illegally introduced northern pike in Shady Lane Pond in Evergreen and Lake Mary Ronan near Dayton, creating harmful scenarios for recreational fishing opportunities in both waterbodies.
Montana Fish, Wildlife and Parks (FWP) notes northern pike are non-native everywhere in Montana besides the Saskatchewan River drainage on the east side of Glacier National Park. Northern pike feed almost entirely on fish and can eliminate their food supply in only a few years, leaving stunted fish populations.ADVERTISING
"Illegal introductions have negative consequences and are a threat to fishing opportunities," FWP Regional fisheries manager Mike Hensler said. "Due to their predatory nature and ability to successfully reproduce in vegetated ponds and lakes, northern pike can do great harm to a fishery."
FWP notes Shady Lane Pond, a popular family fishery near Old Steel Bridge Fishing Access Site, is typically stocked with rainbow and westslope cutthroat trout to promote recreational opportunities. Last year FWP stocked more than 4,600 fish into Shady Lane. FWP biologists first identified northern pike in Shady Lane nearly two years ago. A recent survey collected nine pike in three hours of netting, confirming the population is naturally reproducing.
FWP is halting future stocking efforts in the pond until a management response is developed. The fish that would be stocked in Shady Lane Pond will be stocked elsewhere in the region for the time being.
"Those fish would be better used elsewhere until we determine how to address pike in Shady Lane," Fisheries biologist Kenny Breidinger said. "Continuing to stock trout would simply feed the pike population."
Lake Mary Ronan contains kokanee salmon, largemouth bass, rainbow trout, and illegally introduced yellow perch. These populations will be negatively impacted by a growing, naturally reproducing northern pike population, according to FWP.
Pike were first detected in Lake Mary Ronan in 2014. Recent surveys have identified numerous pike in the lake, causing heightened concern for the important kokanee salmon fishery. Lake Mary Ronan is the sole source of eggs used for kokanee stocking in the state.
FWP is assessing other lakes in the region that could provide the hatchery program a backup spawning site for kokanee as a result of the increasing pike population in Lake Mary Ronan, according to a news release.
"We have not seen impacts to the Lake Mary Ronan fishery yet. However, the number of northern pike we caught in our spring monitoring survey is alarming," Breidinger said.
Anyone with possible information about an illegal introduction is encouraged to visit https://myfwp.mt.gov/fwpPub/tipmont to provide details or call the FWP violation reporting hotline at 1-800-TIP-MONT. People may be eligible for a cash reward.
Lower Yellowstone River Sites Affected by Rising River Conditions
(MILES CITY) With high river flows predicted on the lower Yellowstone River through the weekend Fish, Wildlife & Parks has restricted access to some sites in southeast Montana.
As of Wednesday morning, June 15th, the following sites have been impacted: Rosebud East and Rosebud West Fishing Access sites (FAS) near Forsyth are both limited to walk-in traffic only. Motorized vehicle access is restricted until further notice.
Myers Bridge FAS near Hysham is closed as the Bureau of Land Management (BLM) has closed Howrey Island Recreation Area, which includes the access road to Myers Bridge FAS.
Isaac Homestead FAS, also near Hysham, is limited to walk-in traffic only as water is across the road at this time. Also at Hysham, Amelia Island FAS is still accessible but the boat ramp has been closed.
Intake FAS near Glendive is currently open to the upper parking area. Walk-in traffic is permitted only beyond the parking area. Those wishing to participate in the ongoing paddlefish season are advised that FWP staff will not be onsite and the fish cutting service will be discontinued.
Further restrictions of additional sites may be warranted as river conditions fluctuate in the next few days. FWP staff are currently evaluating river impacts to all sites and will adjust accessibility restrictions as needed to protect public safety.
FWP has been in close communication with agency cooperators, area officials and local emergency services and all have been notified of site accessibility. Current statuses of FWP sites throughout the state can be found at https://myfwp.mt.gov/fwpPub/allRestrictions.
Any restrictions or closures put in place are done so with public safety in mind. Flooding can be unpredictable and poses significant safety hazards, especially to recreationists. High water levels and related river hazards can appear and evolve without warning. Recreationists can avoid accidents and injury to themselves and others by observing all safety closures and avoiding other areas with high flows.
FWP Seeks Input from Anglers on Update to Fort Peck Fisheries Management Plan
FORT PECK, Mont. (NMB) – The 10-year fisheries management plan for Fort Peck Reservoir will expire in 2022, prompting Montana Fish, Wildlife & Parks to begin updating the plan for next 10 years. FWP is seeking anglers' assistance with this plan, starting with an online survey.
This will be the fourth 10-year management plan for the popular reservoir. Each of these plans have been developed with regional and state-wide public involvement to establish clear management direction for the Fort Peck fishery.
The current management objective states that the fishery will be managed primarily as a walleye fishery while also setting goals to maintain a quality multi-species fishery.
The biologically-based components for fisheries management of the Fort Peck fishery include relative abundance targets for walleye, northern pike, smallmouth bass, sauger, lake trout, chinook salmon, shoreline forage, and pelagic forage (cisco). In addition, there are guidelines for fishing tournaments on Fort Peck.
During 2022, FWP is providing several opportunities to obtain public input for the plan. The first step is conducting an online user survey. Anglers interested in providing input are encouraged to visit the FWP website and look under the conservation fisheries-management tab. The home page for the plan can be found directly here: https://fwp.mt.gov/conservation/fisheries-management/fort-peck-reservoir
After the survey, there will be several other opportunities for anglers to contribute to the Fort Peck Plan, including public meetings, to ensure that everyone has a chance to comment.
Over the last decade, walleye populations and other gamefish species in Fort Peck Reservoir have been at or slightly above their long-term average. Favorable runoff from higher elevation snowpack and generally increasing reservoir water levels has resulted in very good habitat and forage conditions. These conditions have greatly benefited the sportfishery and have led to Fort Peck becoming a destination fishery for large walleye, lake trout, Chinook salmon and smallmouth bass.
Those interested in the planning process or that have any questions about the fishery are encouraged to call FWP in Glasgow at 406-228-3700
FWP Statewide Fisheriese Management Plan Proposals
At last week's FWP Citizens Advisory Council meeting at the Region 4 headquarters in Great Falls FWP requested that the public send in proposals for the new Statewide Fisheries Management plan. Please see the FWP website for more information.
Proposals can be submitted on the FWP website. FWP also stated that it works best if you discuss your proposal with your local FWP Biologist or Fisheries Manager prior to submitting on the FWP website.
Proposals due date is May 27th, 2022.
Montana State Parks and Recreation Board to meet May 13
Update: Board to tour several state parks in northwest Montana
HELENA – The Montana State Parks and Recreation Board will meet at the Fish, Wildlife & Parks Region 1 Headquarters in Kalispell and virtually via Zoom on May 13, at 9 a.m. 
Interested members of the public may comment via ZOOM, in person or at any FWP regional office. If you are interested in commenting via ZOOM, you must register online at the Fish, Wildlife & Parks website. Registration will open at noon on May 6 and close at noon on May 12. The public will also be able to comment in person at the meeting or at any FWP regional office.
The board will also tour Big Arm, Lake Mary Ronan and Somers Beach state parks on May 12, starting with Big Arm at 8:45 a.m. and ending at Somers Beach at noon. After the meeting on May 13, the board will leave at 10:45 to tour Les Mason, Whitefish and Lone Pine state parks.
To listen to the meeting and for information on how to join the meeting via Zoom, click on the State Parks and Recreation Board's webpage prior to the meeting start time. 
The board will take action on the following item: 
Smith River State Park and River Corridor Biennial Rule
The board will also hear updates on the following items: 
Fish, Wildlife & Parks Reorganization and Planning Update
Parks Fee Schedule Update
Hell Creek State Park Update
FWP ensures its meetings are fully accessible to those with special needs. To request arrangements, call the FWP Parks and Outdoor Recreation Division at 406-444-3750.
For the full agenda and background on the scheduled topics, go to the State Parks and Recreation Board page on the FWP website.
FWP's website offers live-streamed audio of each State Parks and Recreation Board meeting.
Upper Missouri River Reservoir Fisheries Management Plan update meeting April 20
Montana Fish, Wildlife & Parks will hold its annual update meeting on the Upper Missouri River Reservoir Fisheries Management Plan on Wednesday, April 20.
The meeting will be held at 6:30 p.m. in the auditorium of the Montana WILD Education Center in Helena and will update anglers and the public on population trends of principle game fish in the plan area.
The Upper Missouri River Reservoir Fisheries Management Plan guides fisheries management for Canyon Ferry, Hauser and Holter reservoirs and the Missouri River from Toston to Canyon Ferry and from Hauser Dam to upper Holter Reservoir. The plan sets fisheries goals and strategies to maintain quality multi-species fisheries throughout the system and was approved by the Fish and Wildlife Commission in December 2019.
Participants are invited to attend the meeting in person, and a virtual Zoom option will also be available. Details on how to attend via Zoom will be provided on FWP's website and by press release approximately a week ahead of the scheduled meeting.
For more information visit https://fwp.mt.gov/conservation/fisheries-programs/upper-missouri-management-plan or contact fisheries biologist Adam Strainer at astrainer@mt.gov
Record Utah chub caught at Canyon Ferry Reservoir
Mar 9, 2022 2:15 PM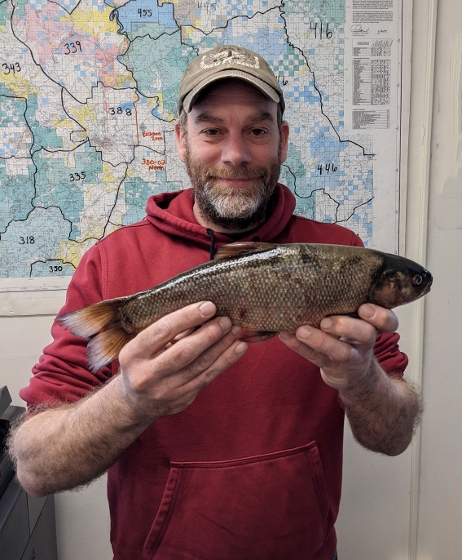 HELENA – Steve Hagen of East Helena reeled in a state record Utah chub on March 7 from Canyon Ferry Reservoir. The fish weighed in at 2.39 pounds and measured 15.9 inches in length and 10.4 inches in girth. The previous record Utah chub, caught at Canyon Ferry in 1992, weighed 1.81 pounds.
Hagen's catch adds to the list of Montana record fish caught in the last year and a half including a walleye, a chinook salmon, a smallmouth bass, a yellow bullhead, a brown trout, a longnose sucker, and a largemouth.
With a total of 91 native and introduced fish species found in Montana, interest in fish records has increased in recent years. Montana Fish, Wildlife & Parks maintains the list of record fish, and it is available on FWP's website at https://fwp.mt.gov/fish/anglingData/records.
Anglers who think they caught a state record fish should keep the following things in mind:
To prevent loss of weight, do not clean or freeze the fish. Keep the fish cool — preferably on ice.
Take a picture of the fish.
The fish must be weighed on a certified scale (found in grocery stores or hardware stores, etc.) and witnessed by a store employee or other observer. Obtain a weight receipt and an affidavit from the store personnel if no FWP official is present. Measure the length and girth.
Contact the nearest FWP office to have the fish positively identified by a fisheries biologist.
Gov. Gianforte, FWP Announce New Smartphone App
App developed as Gianforte administration leads digital redesign effort
HELENA, Mont. – As part of his charge to improve customer service and modernize technology in state government, Governor Greg Gianforte today announced the launch of a new mobile app from the Montana Fish, Wildlife and Parks (FWP). FWP's new app will allow Montanans to access their hunting and fishing licenses with their phone, reducing the need to secure and carry around paperwork while they fish and hunt.
The new app, MyFWP, provides Montana sportsmen and women a simple, easy way to store and display licenses, permits, and digital carcass tags, known as E-Tags, which can be used in the field without cellular service.
"Modernizing the way state government does business allows us to better serve Montanans and remains a top priority as we lead the Montana Comeback," Gov. Gianforte said. "I applaud FWP for bringing this idea to life, and I look forward to the convenience it will bring our hunters and anglers."
FWP is launching the new mobile app in conjunction with the start of the new 2022 license year, which begins March 1. The app is available to download now in Apple's App Store and Google Play.
"This mobile app is a huge advancement in convenience for hunters and anglers," FWP Director Hank Worsech said. "Anglers can now display their fishing license on their smartphone, and hunters can notch their digital carcass tag with just a few taps of the app in the palm of their hand."
In addition to storing and displaying licenses and permits in a digital wallet, the MyFWP app gives hunters the option to digitally validate an E-Tag instead of a traditional paper carcass tag. This can be done even if the hunter is out of cell service.
Hunters who purchase licenses online or at an FWP office will have the choice between the two options – digital or paper – for each transaction they make. They can't choose both, and the decision is final for the remainder of the license year for each tag. If a hunter chooses the digital option, the E-Tag will be available on their mobile app to download before they head into the field.
Even if someone opts for paper carcass tags, they can still use the MyFWP app to carry and view licenses and permits for the current year and one year prior. All game animals in Montana that require a carcass tag are eligible for digital validation with an E-Tag. Paddlefish won't have an E-Tag option this year.
Licenses and E-Tags will be accessible out of cellular service if users are logged into the app and have downloaded E-Tags to their mobile device.
Simple and Convenient
1. Download the Montana MyFWP app from the App Store (Apple) or Google Play.
a. Device & System Requirements
i.iPhone device with iOS version 14 or higher
ii.Android device with OS version 11 or higher
2. Open the app and log into your MyFWP account or, if you don't have one, create a new MyFWP account. You can also link your ALS account to an existing MyFWP account.
3. View your fishing and hunting licenses and permits in or out of cell service.
4. Choose between paper carcass tags or E-Tags upon purchase either online or at an FWP office. You can't choose both, and if you choose an E-Tag, download it to your device so it's accessible in the field, in or out of cell service.
Moving forward, FWP will explore adding new functions and services to the MyFWP app, including harvest survey reporting.
To view Frequently Asked Questions on the MyFWP app and more information, visit fwp.mt.gov/myfwpapp. ##
Fort Peck Dam and Lake Master Plan Update and Revision
The U.S. Army Corps of Engineers (USACE), Omaha District is currently seeking your input on the development of a revised and updated Master Plan for the Fort Peck Dam and Lake Project. We are currently in Phase One initial stages of our revision process where we are identifying stakeholders and potential stakeholders that have an interest in the land management objectives and goals for the Fort Peck Project.
The Master Plan guides the comprehensive land management document guiding USACE responsibilities pursuant to Federal laws, regulations, and policies to preserve, conserve, restore, maintain, manage, and develop the Civil Works Project's lands, waters, and associated resources. The Master Plan includes a description of the project's resources, a discussion of factors influencing resource management and development, and a strategy for managing project resources and public recreation to meet environmental stewardship requirements and the needs of present and future generations. Additionally, a Programmatic Environmental Assessment (PEA) will be developed in accordance with the National Environmental Policy Act (NEPA) that assesses the potential effects to the natural and human environment outlined in the Draft Master Plan.
Part of the stakeholder identification process is to work at establishing or strengthening partnerships to work together to manage public lands. A significant part of developing a Master Plan is to identify these critical partnerships. If you have ideas or suggestions on potential partnerships or expanding partnerships to manage these public resources together, we would greatly appreciate hearing from your organization.
Please provide any comments, questions, or concerns to Mr. Zach Montreuil, District Environmental Stewardship Program Manager at Zachary.J.Montreuil@usace.army.mil or via U.S. Mail to the address below:
U.S. Army Corps of Engineers, Omaha District
Attn: Mr. Zach Montreuil, Environmental Stewardship Manager
Operations Division, Natural Resources Section
1616 Capitol Avenue
Omaha, Nebraska 68102-4901
It is anticipated that we will have the Draft Master Plan and Programmatic Environmental Assessment (PEA) completed in Fall 2022. We will notify you when the draft documents are completed and will request your review and comment at that time as well.
The current Master Plan (2008) that this effort will be updating and replacing may be viewed at this link: https://usace.contentdm.oclc.org/digital/collection/p16021coll7/id/90.
If you have any questions, concerns, or comments please contact Mr. Zach Montreuil, District Environmental Stewardship Program Manager at Zachary.J.Montreuil@usace.army.mil or at (402) 995-2712.
Thank you,
___________________________________
Zach Montreuil
Environmental Stewardship Program Manager
Natural Resources Management Section
U.S. Army Corps of Engineers, Omaha District
CENWO-ODT-N
1616 Capitol Avenue, 59CE
Omaha, Nebraska 68102
Office: (402) 995-2712
Email: Zachary.J.Montreuil@usace.army.mil
February Spring meeting and Banquet – Lewistown
Social 7 pm Feb 18 Yogo Inn
Meeting 8 am Feb 19 Eagles Club. Meeting at 8 am
Doors open banquet 5 pm Feb 19 Fergus County Trade Center
FYI: Banquet tickets will not be reserved. The cost is $40 each.
Make check payable to Walleyes Unlimited, Mail check to; Colby Tognetti, 715 4th Ave N, Lewistown, MT 59457-1403, Phone: 406-350-2627OR mail to; Don Pyrah, P.O. Box 3595, Lewistown, MT 59457-3595 Phone: 406-380-0064
There will be a no-host social on Friday night, February 18, at the Yogo Inn, 211 East Main, beginning at 1900 hours.
Saturday Morning, February 19th, there will be breakfast served at the Eagles Club, 124 West Main Street, beginning at 0730 prior to the WUM State Business meeting at 0800 hours for those needing or wanting to attend.
Doors will open at 1700 hours on Saturday Evening January 19th for the State Banquet and Awards at the Fergus County Trade Center, you won't want to miss it! We are also planning on having a couple boats on display for your pleasure as well!!
Chapter Banquets
Great Falls Annual Banquet will be on February 5th, 2022. Doors open at 4pm and walleye dinner is served at 6:30 pm. Contact Robbi, 406-590-6565 or Brenda, 406-868-2676